Mums attempt to slash the cost of food by maximising offers and obsessive price comparisons

Price comparing has become an obsession with British parents looking to get through the crunch, with a study by Dalepak showing a radical change in the way that families are shopping to counteract ever shrinking budgets. The study reveals one in five now spend at least 26 hours* per year comparing the cost of food when shopping for the family.


As part of the research, Dalepak known for its frozen crispbakes and grills, interviewed over 1,000 parents from across the UK to discover what behavioural changes have been made to food shopping and feeding the family.

Findings reveal that whilst 72% of parents have increased their time comparing food prices as a means to surviving the recession, one in five spend a minimum of half an hour per weekly shop weighing up prices of their favourite goods.

Almost all surveyed (96%) have adopted new shopping habits to help reduce the weekly food bill, with 38 per cent putting a stop to impulse buys and 16 per cent obsessed with comparing cost per gram to keep costs to a minimum. Other habits acquired to help reduce till receipt includes shopping without the kids (13%), shopping less regularly (11%) and travelling further to seek out bargains (8%).

A change in behaviour doesn't stop in the supermarket, with almost 80% making considerable changes to the weekly family meal plan, with the top five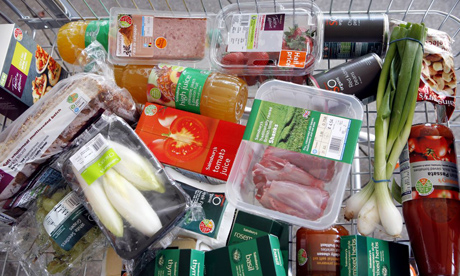 changes being;

1. Stopped weekly take-aways (58%)

2. Cutting out deserts (10%)

3. Introduced left-over night (7%)

4. At home date nights (5%)

5. Introduced a vegetarian night (3%)

The survey also highlights that a third of people in the UK are turning to their parents and grandparents for advice to get through the crunch, elders who could well be encouraging the 47 per cent of people who have started dabbling in the 'good-life'. Just over 30 per cent are now growing their own vegetables and one in ten starting their own herb garden, with a lesser six per cent who think keeping chickens is the way forward. With all this said, 53 per cent still think self sufficiency is not the most cost effective way to feed the family stating it easier and cheaper to buy all their food from the supermarket and local shops.


Jenni Trent Hughes, social commentator, said, "The research by Dalepak really does highlight that the crunch has instilled some obsessive shopping behaviour and considerable changes in meal plans, as mums and dads across the country look at ways to claw back every last penny. I am by no means an exception to this behavioural evolution!

"One of the great things to come out of the current financial climate is that it is causing most of us to show that we still have that 'make the best of a bad situation' attitude running through us. We're taking the difficulties being thrown at us and using it as a way to create more opportunities to extend our shopping pound."

Jenni Tent Hughes now lives by the following shopping rules;

1. Cook food in larger amounts (it's cheaper), then freeze it to use at a later date rather than sticking the leftovers in the back of the fridge to be thrown away at the end of the week.

2. Still treat yourselves to the occasional takeaway but cook the rice and vegetables at home.

3. Keep it simple, research your products and don't just buy whatever the snazzy ads direct you towards. Often these 'four-in-one' products aren't necessary and are definitely more expensive.

Anne Claypole, spokesperson at Dalepak commented, "We carried out the research after experiencing a boom in sales for our frozen crispbakes and grills from the onset of the credit crunch. Our findings show that mums and dads up and down the country are investing a substantial amount of time comparing prices, therefore these products must tick all the boxes where value is concerned, and taste, as they keep coming back for more.


"We hope that parents can claim back that hours spent comparing cost per gram of food, and scouring the supermarkets for the best price from their meal preparation time; just adding vegetables to our crispbakes provides a substantial family meal ready in less than 30 minutes and costs under a pound per person."

Dalepak frozen crispbakes, grills, ribsteaks and burgers are available from all good retailers, starting from just £1 for a pack of four. For more information about Dalepak products, visit www.dalepak.co.uk


According to the Dalepak survey, a fifth of parents spend at least half an hour per shop comparing prices of food products.

Survey of 1,000 people was conducted on behalf of Dalepak by The Leadership Factor.
Is your Household Grocery bill gathering pace at an alarming rate?
Totz2teens has an enormous range of money saving coupons to offer you to print out and save money on your weekly shop.

To start saving yourself some money please visit HERE
Try saving more money with